COSTE RACE DOG – Aurelie Delattre and Rémy Coste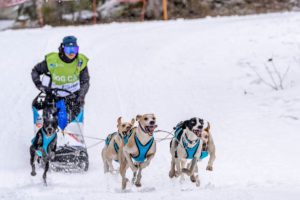 "We are Coste Racedog, a dogsled racing team. Rémy, a double world champion, 7-time winner of La Grande Odyssée (in Open), European champion, and current Scandinavian champion, and Aurelie, the reigning world champion and two-time winner of LGO. Our team consists of 30 Scandinavian hounds, hunting-type dogs that are close to humans, love to please us, and enjoy running. They are competitive dogs who give their 100% to make us happy.
To show our appreciation, we give our best for their well-being and nutrition. For our champions, we have chosen PRO TEAM nutrition for the quality of its products. Throughout the year, we use PRO TEAM ENDURANCE kibbles as they are rich and complete, providing a good supply for our sporty dogs who train all year round. PRO TEAM SAINDOUX is a high-fat supplement that provides the extra calories our dogs need, especially during winter and races.
Aurelie, who is also a veterinarian osteopath, closely monitors our dogs' diet to ensure their long and healthy careers.
Aurelie and Rémy's recommendations:
"In winter, with the cold, intensified training, and competitions, sporty dogs need a colossal energy intake. SAINDOUX is a fat source that is well-metabolized and better assimilated by the canine body than vegetable fats. It is, therefore, an excellent choice for your sporty dogs' diet! We divide the daily quantity of SAINDOUX between the meal given after the stage and hydration 8 hours before the race. We advise combining SAINDOUX with kibbles or meat to improve its digestion and assimilation. Combine good nutrition with a training protocol adapted to your goals and osteopathic sessions, and your dogs will be in great shape on the big day!"
Aurelie Delattre's advice:
Introduce any changes or new supplements at home well before the race to avoid surprises.
Start supplementing with SAINDOUX in small quantities, allowing the dog's body to adapt, and gradually increase the amount.
If you have any questions, contact Aurelie and Rémy on Facebook: Coste RaceDog.
Like Coste Race Dog, feel free to share your experiences and personal advice. If you have any questions or need further information about the PRO TEAM range or our dietary supplements, don't hesitate to contact us. You can also follow our updates on Facebook."