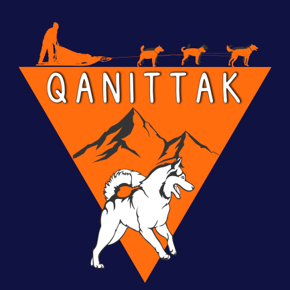 QANITTAK – Estelle et Nicolas
Our passion and profession: OUR DOGS
They mean everything to us, they are members of our family but also our work colleagues. Today our pack consists of 27 dogs:
20 working Siberian Huskies with whom we offer activities related to dog sledding in Vaucluse and the Alpes de Haute-Provence throughout the year through our company Qanittak (ranging from 8 years to 5 months old).
1 Altdeutscher Schaferhund (Old-type German Shepherd) (15 months old)
2 Finnish Lapphunds (3 years old and 7 years old)
1 Australian Shepherd (9 years old) 1 Bichon (8 years old)
Our huskies receive regular training from September to April for long-distance race preparation. Their nutritional needs are very important. Depending on their activity, their needs increase throughout the season. Each meal is weighed daily and adjusted based on each dog's overall condition.
Our non-working dogs also receive the same attention because they accompany us on training and hiking outings. They have a higher activity level than the average companion dogs.
Why PRO TEAM? The most important points for us are product quality and finding a range that provides high and balanced nutritional values that meet our dogs' needs. Price… let's not kid ourselves, with 27 dogs, price also matters. Lastly, a super important point for us is customer relations. Laure and the PRO TEAM team are attentive, highly responsive, and very attentive to our needs, and that… is priceless! THANK YOU for our "little dogs."
You can find QANITTAK in Cabrières d'Avignon in Vaucluse, near Marseille and Avignon. They welcome you with great pleasure throughout the year. You can also enjoy their activities in the Southern Alps, 30 minutes away from Digne-les-Bains, at the Fanget site. For any information, visit www.qanittak.com.
Like Estelle and Nicolas, share your experiences and personal advice. If you have any questions or requests for additional information about the PRO TEAM range or our dietary supplements, please don't hesitate to contact us. You can also follow our updates on Facebook.