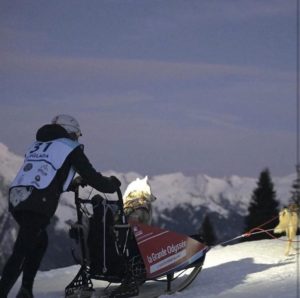 Laure Inglada
"Two years have already passed since my small pack of Siberian Huskies started enjoying PRO TEAM products 😊 and they love them!
Our activity is multisport 😊. We share many wonderful moments together: cani-hiking, cani-trail running, skijoring, sledging 😊, and even cani-paddling on the hottest days. To stay in great shape, our secret is quality nutrition! The most important thing for us before starting an activity is to ensure that the whole team is in good physical condition! PRO TEAM products support their health and proper bodily function. Nutrition is the foundation!
Our races: participation in two editions of the Trophées de la Grande Odyssée Savoie Mont Blanc in 2020 and 2021. Swiss Canicross Championship, achieving 6th place in 2019 with Mooky and 8th place in 2020 with Oruk. Due to the COVID-19 pandemic, there was no official ranking in 2021, but we participated in several races for enjoyment.
In 2022, we took a break from professional competitions to welcome our little girl Juline 😊. And we resumed competing in 2023 with the goal of the Diamond Cani-Trail at the end of August!
Thank you again, PRO TEAM!"
Like Laure, share your experiences and personal advice. If you have any questions or requests for additional information about the PRO TEAM range or our dietary supplements, feel free to contact us. You can also follow our updates on Facebook.