TEAM BERGER & CO, Yohan, Emma, Fred, Eliette, and their dogs.
"At TEAM BERGER & CO, everyone practices one or more sports with their canine partners. More than just pets, our dogs (of all ages) share all kinds of adventures with us. Therefore, they need nutrition adapted to their sports activities, including pulling sports, as well as various activities like bite work, obedience, and hiking in our mountains. All our dogs are versatile, and for that reason, they benefit from the PRO TEAM range of kibbles, providing them with the right energy intake and meeting their specific nutritional needs. They also receive PRO TEAM dietary supplements. Our 14-year-old grandpa also enjoys the benefits of the PRO TEAM N-UTRIPROTECT* dietary supplement.
(*The PRO TEAM N-UTRIPROTECT dietary supplement is rich in Tenebrio Molitor N-ova insect flour and vitamin D3, supporting the immune, muscular, and skeletal systems. The vitamin D3 from Tenebrio Molitor N-ova flour has 4 times higher bioavailability than other vitamin D3 on the market, promoting the reconstruction and repair of muscle fibers after exercise and combating age-related bone demineralization. Thanks to its innovative insect-based protein source, it is hypoallergenic and highly digestible, providing rapid energy intake through its fat content. Omega-3, -6, and -9 fatty acids contribute to maintaining skin and joint health due to their anti-inflammatory function.)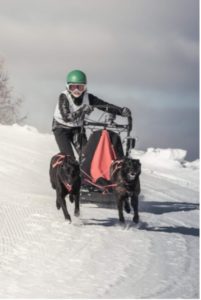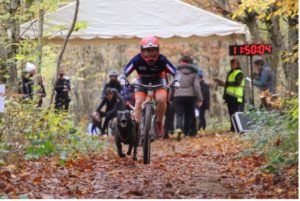 Yohan, 12 years old, practices various pulling sports, including canicross, cani-trotinette, and more recently, dog sledding. In 2022, he participated with his sister Emma in the Odyssée des Espoirs during the LGO event and reached the 3rd place in the Junior category at the French championship.
Emma, 16 years old, mainly practices caniVTT (she became the French champion in 2022), but she also enjoys running or karting with our dogs. In 2022, at the Dryland IFSS European Championship, she finished 4th, only 3 seconds away from the podium, in her first international competition.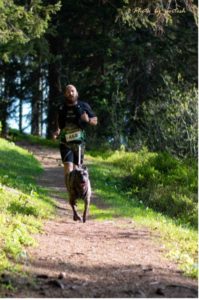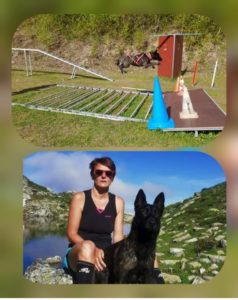 Fred, a fan of mountain trails, engages in cani-trail, canicross, and caniVTT. His next event with Sheitan is the Diamant Cani-Trail in August 2023.
And then there's me, Eliette. I run with my partner, Missile, but I also engage in other activities with the Dutch Shepherds.
What we appreciate about PRO TEAM is the range of products offered that fully meet the expectations of our four-legged companions. We also value our exchanges with Laure regarding the use of different supplements for preparation, injuries, recovery, and support for our senior dog."
Like TEAM BERGER & CO (Yohan, Emma, Fred, and Eliette), don't hesitate to share your experiences and personal tips. If you have any questions or need additional information about the PRO TEAM range or our dietary supplements, feel free to contact us. You can also follow our updates on Facebook.